As an independently owned and operated auto parts store, we at Antioch Auto Parts have a choice of distribution systems to align ourselves with. When it comes to quality, breadth of product offerings, and strength of resources, the only real choice is NAPA.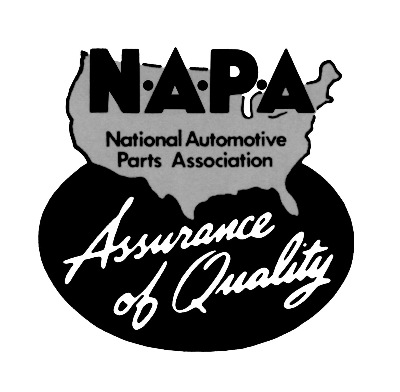 The National Automotive Parts Association (NAPA) is the leading auto parts distribution system. NAPA was established in 1925, making it the oldest auto parts distributor operating in the U.S. There are over 70 distribution centers supplying over 6000 NAPA auto parts stores in the U.S., Canada, Mexico, the Caribbean and Oceania.

NAPA is not a franchise system, but rather a retailers' cooperative. Its members share in marketing expenses but pay no franchise fees. The largest member of NAPA is Genuine Parts Corporation (GPC), which runs the majority of the distribution centers and about 1000 company-owned NAPA stores. The majority of NAPA stores are owned by independent operators.

NAPA sells quality auto parts to both retail and wholesale customers, including new car dealers, fleet operators, and independent repair facilities. Additionally, there are over 13,000 affiliated NAPA AutoCare centers choosing to use NAPA auto parts. Even if you've never repaired your vehicle yourself, there's a very good chance that parts used on your vehicle were sourced from NAPA.


Suppliers distributing auto parts through NAPA are some of the biggest and most trusted names in the industry. Many of these companies also sell directly to the original equipment manufacturers (OEM). In many cases the parts you can buy at NAPA are the parts your car came with when it was new! A short sampling of these suppliers includes:

Affinia, including Brake Parts, Incorporated (brake and chassis parts)
Cardone (remanufactured parts)
Cooper Automotive (Champion spark plugs, Belden wire & cable)
Deka (batteries)
Delphi
Dorman
Federal-Mogul (Fel-Pro gaskets, Carter fuel pumps)
SKF (bearings)
Standard Motor Products (ignition and electrical components)
Tenneco Automotive (Walker exhaust and Monroe shock absorbers)
Wix (filters)
In addition, GPC has several wholly-owned subsidiaries distributing parts through NAPA. Altrom distributes parts for imported cars from a multitude of OEM suppliers, Balkamp distributes accessories and consumer goods, TW distributes Heavy Duty parts, and Rayloc manufactures brake parts.


NAPA's product offerings extend into nearly every product category of the industry, with more being added every day. And there's a lot more to NAPA than just auto parts. From auto paint and body supplies, garage accessories and supplies, tools and equipment, marine and small engine parts, heavy duty and off-road machinery parts and more, NAPA has it all.


Just putting "Discount" on a sign doesn't give someone a monopoly on low prices. NAPA constantly monitors the industry to keep their prices on par with the little guys. Also, NAPA offers additional value-priced products to complement many product lines.


In addition to the top suppliers, NAPA also offers a nationwide warranty for parts purchased through its channels. In the rare event that you're away from home and have an issue with a NAPA part, a NAPA store or AutoCare center near you can help. With NAPA's huge number of locations, you're never far from a trusted name.


Finding the right part for your vehicle is the key to successful repair and maintenance. NAPA has a cataloging system that is second to none in the industry. The computerized cataloging software in use at every NAPA store has listings that go back to the very dawn of the automobile, in 1886. NAPA has cataloged automobiles you may never come across in your daily life, from Amphicar to Koenigsegg to Zenn. Your car's not too old or unusual for NAPA.

In addition, non-automotive vehicles are electronically cataloged as well; whether you're working on an ATV or an outboard marine engine, or even a leaf blower, NAPA can help you find the right part, quickly and easily. Beyond the electronic cataloging system, NAPA still provides paper catalogs as well, for detailed research on those unusual requests. There simply isn't another auto parts distributor that can match NAPA's coverage.


Add it all up, and it's easy to see why NAPA is the industry leader, and easy to see also why Antioch Auto Parts is proud to wear the NAPA logo.