The official website of Antioch Auto Parts in Antioch, Illinois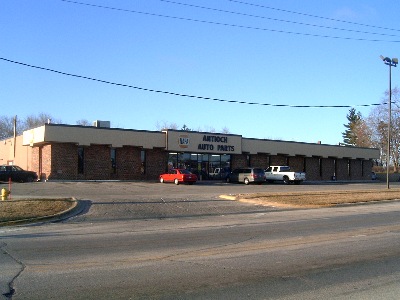 October has brought us typical Midwest weather for fall. Warm one day, chilly the next, and bouts of heavy rain. If you add snow to the mix, which some years happens, then October lets us enjoy all 4 seasons in one month. That's why it's important to make sure your vehicle is ready for whatever weather comes our way! We have great deals on wipers, headlamps, oil, and starting fluid...to name a few.

As daylight gets a bit less, now is a great time to change those headlamps to see better! Save $10/2-pack on NAPA NightVision Premium Headlamps. Also, NAPA ProFormer Blades are $5.99/each or NAPA ExactFit Rear Wiper Blades are as low as $10.99/each.

Valvoline ATFs are on sale all month! Quarts start as low as $4.49/each.

Join us in celebrating 50 years of CRC Brakleen! Get CRC Brakleen 2 for $7!

Are you on NAPA Rewards yet? This is a buyer loyalty program with which you can earn a $5 credit for every $100 you spend -- not just at our store but any participating NAPA Rewards store! All we need is your phone number and the computer tracks the rest. No card to carry, no minimum purchase to redeem. Sign on today

PEAK Full Strength coolant is on sale for $12.49/Gal. Or PEAK 50/50 Prediluted is $10.49/Gal. NAPA Vehicle-Specific is on sale for $14.99/Gal. Select Zerex coolants are on sale, too!

Mobil 1 Full Synthetic Oil is only $5.99/Qt. NAPA Conventional Oil is $2.39/Qt. Don't miss out on our Mobil 1 deal this month! Buy 5 Qts. of Mobil 1 and get $10 off ANY pair of wiper blades!

Be sure to "Like" us on Facebook!

Thanks again for visiting our website. Thanks as always for your business; we are continually striving to be the world's finest NAPA store. Your feedback is appreciated.

-------------------

Phone: 847-395-3660 or 800-843-3211

Hours:

Monday - Friday: 7:30-6:30
Saturday: 7:30-5:00
Sunday: 9:00-2:00
Holidays: 9:00-2:00
Closed Christmas Day!
We are located just east of the intersection of Routes 83 & 173 in Antioch, Illinois.

Mailing address: 250 W. IL Rte. 173 Antioch, IL 60002