The official website of Antioch Auto Parts in Antioch, Illinois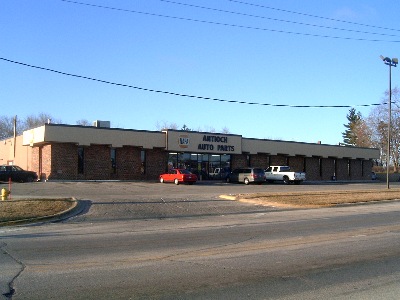 Time to bring out those classic cars! Whether you are a classic car owner or enthusiast, come check out Wings, Etc. Cruise-In classic car shows! They are held every 2nd & 4th Tuesday of the month starting with May 11th, from 4-7pm. Located in the parking lot by Wings, Etc. in Antioch. Enjoy great food, cold beer, and classic cars!

Need some extra help getting your car squeaky clean? We have select Armor All Wipes on sale for $3.99 each and select Armor All products are up to 29% off.

Valvoline High Performance Gear Oil is on sale starting as low as $5.59/Qt. Also, GUNK Engine Cleaners (Original and Foamy) are only $3.49/each.

Please follow our Illinois guidelines for COVID-19. Social distancing while in our store and wearing a face mask are required. We want to make sure our customers and employees feel safe and are safe.

Are you on NAPA Rewards yet? This is a buyer loyalty program with which you can earn a $5 credit for every $100 you spend -- not just at our store but any participating NAPA Rewards store! All we need is your phone number and the computer tracks the rest. No card to carry, no minimum purchase to redeem. Sign on today!

NAPA Orange Full Strength is on sale for $9.99/Gal. Or NAPA Orange 50/50 Prediluted is $7.99/Gal. Also, all our NAPA Vehicle-Specific Antifreeze is on sale for $14.99/Gal. Be sure to check out select Zerex deals, too!

Mobil 1 Full Synthetic Oil is only $5.79/Qt. NAPA Conventional Oil is $2.39/Qt. For diesel, Chevron Delo 400 SDE 15W-40 is $13.99/Gal. Or NAPA 15W-40 H.D. Oil for $9.99/Gal.

Be sure to "Like" us on Facebook!

Thanks again for visiting our website. Thanks as always for your business; we are continually striving to be the world's finest NAPA store. Your feedback is appreciated.

-------------------

Phone: 847-395-3660 or 800-843-3211

Hours:

Monday - Friday: 7:30-6:30
Saturday: 7:30-5:00
Sunday: 9:00-2:00
Holidays: 9:00-2:00
Closed Christmas Day!
We are located just east of the intersection of Routes 83 & 173 in Antioch, Illinois.

Mailing address: 250 W. IL Rte. 173 Antioch, IL 60002