The official website of Antioch Auto Parts in Antioch, Illinois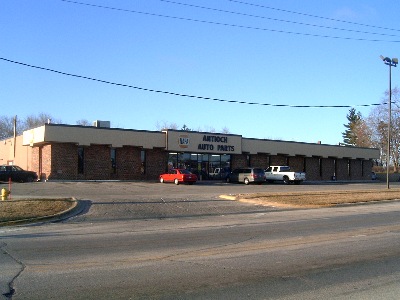 The summer has flown by so quickly that we forgot to say back in July a big "THANK YOU" for another year of business! On July 28th, we celebrated 58 years as Antioch Auto Parts! We truly appreciate our customers who let us provide them with the best auto parts and our employees who are the backbone of this store.

As many know, Governor Pritzker reissued a mask mandate for IL starting August 30th. We ask that you please wear a mask when in our store. Forgot your mask? No worries, we have you covered and can give you one.

As daylight gets a bit less, now is a great time to change those headlamps to see better! Save $10/2-pack on NAPA NightVision Premium Headlamps OR get NAPA NightVision LED Minis starting at $7.99/2-Pack.

It's also a great time to change your wipers. Save $4/Pair on NAPA ProFormer Conventional Wiper Blades or save up to $10/Pair on Rain-X Latitude Wiper Blades.

Join us in celebrating 50 years of CRC Brakleen! Get CRC Brakleen 2 for $7!

Are you on NAPA Rewards yet? This is a buyer loyalty program with which you can earn a $5 credit for every $100 you spend -- not just at our store but any participating NAPA Rewards store! All we need is your phone number and the computer tracks the rest. No card to carry, no minimum purchase to redeem. Sign on today

PEAK Full Strength coolant is on sale for $12.99/Gal. Or PEAK 50/50 Prediluted is $9.99/Gal. NAPA Vehicle-Specific is on sale for $14.99/Gal.

Valvoline Full Synthetic Oil is only $5.79/Qt. Valvoline Conventional Oil is $3.99/Qt. For diesel, Valvoline Premium Blue 15W-40 H.D. is $13.69/Gal.

Be sure to "Like" us on Facebook!

Thanks again for visiting our website. Thanks as always for your business; we are continually striving to be the world's finest NAPA store. Your feedback is appreciated.

-------------------

Phone: 847-395-3660 or 800-843-3211

Hours:

Monday - Friday: 7:30-6:30
Saturday: 7:30-5:00
Sunday: 9:00-2:00
Holidays: 9:00-2:00
Closed Christmas Day!
We are located just east of the intersection of Routes 83 & 173 in Antioch, Illinois.

Mailing address: 250 W. IL Rte. 173 Antioch, IL 60002