The official website of Antioch Auto Parts in Antioch, Illinois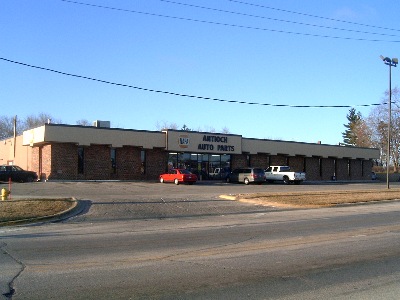 It's that time of year to get your vehicle ready for snow! Visibility is important so make sure your vehicle has a fresh set of wipers, bright headlight bulbs, and a washer reservoir full of fluid. We have some great deals on NAPA or Trico Wiper Blades and NAPA Night Vision Headlamps! Also, PEAK All-in-One Windshield Washer Fluid is on sale for only $3.49/Gal. Don't forget to also check out some of our cool holiday gifts!

One great gift we have is our Complete Car Care Kit by Armor All! This kit comes with 4 different containers of wipes (leather, glass, cleaning, and protectant), Tire Foam, Extreme Tire Shine, STP Gas & Oil Treatment and Microfiber Towel. All that can be yours or someone else's as a gift, for only $29.99!

A nice gift for any adult or child is our NAPA Wooden Model Delivery Truck Kit for $5.99! No glue necessary and the detail is outstanding. Many of us here have already bought one, but we saved a few for customers, too. Don't miss out!

Another fun children's gift is our Carlyle 64 pc. Toy Tool Set and Work Bench for $19.99! Let your little one play like big kid and work like a pro with this cool set only available through NAPA!

Also, back by popular demand, the Evercraft 100 Pc. Screwdriver Set is in store and on sale for $19.99!

NAPA ATFs are on sale all month! Quarts start as low as $3.49/each.

Are you on NAPA Rewards yet? This is a buyer loyalty program with which you can earn a $5 credit for every $100 you spend -- not just at our store but any participating NAPA Rewards store! All we need is your phone number and the computer tracks the rest. No card to carry, no minimum purchase to redeem. Sign on today

NAPA Green Full Strength Antifreeze is on sale for $8.99/Gal. Or NAPA Green 50/50 Prediluted is $7.99/Gal. NAPA Vehicle-Specific is on sale for $11.99/Gal. Other select NAPA and Zerex coolants are on sale, too!

Valvoline Full Synthetic Oil is only $6.99/Qt. Valvoline Conventional Oil is $4.99/Qt. For diesels, NAPA 15W-40 H.D. Oil is $12.49/Gal or Chevron Delo 400 15w-40 is $14.49/Gal.

Be sure to "Like" us on Facebook!

Thanks again for visiting our website. Thanks as always for your business; we are continually striving to be the world's finest NAPA store. Your feedback is appreciated.

-------------------

Phone: 847-395-3660 or 800-843-3211

Hours:

Monday - Friday: 7:30-6:30
Saturday: 7:30-5:00
Sunday: 9:00-2:00
Holidays: 9:00-2:00
Closed Christmas Day!
We are located just east of the intersection of Routes 83 & 173 in Antioch, Illinois.

Mailing address: 250 W. IL Rte. 173 Antioch, IL 60002