The official website of Antioch Auto Parts in Antioch, Illinois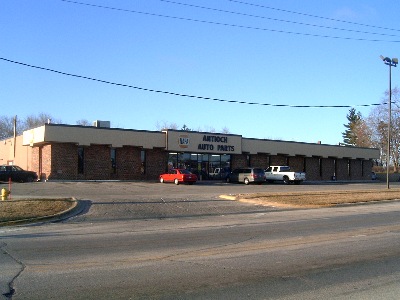 Did you know 2021 marks the 10th year that NAPA is partnering with Intrepid Fallen Heroes Fund (IFHF) to raise awareness and support our service members who suffer from Post Traumatic Brain Injury and Post-Traumatic Stress? This month you can donate in-store to IFHF or anytime at https://www.fallenheroesfund.org/. CRC is also partnering to show their support by donating $.10 per can to IFHF with each purchase of select CRC products. Over the past 3 years, CRC has raised over $650k for IFHF! Please take the time to check out the website above to learn more about IFHF and if you are able, to donate so we can continue to help and support our brave heroes!

Once again, NAPA Bucket deal is going on! Buy a blue NAPA bucket for $2.99 and receive 20% off on any 3 or more products you can fit in bucket!

We have several specials this month! So, make sure to check around the store for blue sales tags and grab a sales flier at front of store so you don't miss out on July savings!

Need brake fluid? CRC Brakleen is on sale, 2 for $7!

Are you on NAPA Rewards yet? This is a buyer loyalty program with which you can earn a $5 credit for every $100 you spend -- not just at our store but any participating NAPA Rewards store! All we need is your phone number and the computer tracks the rest. No card to carry, no minimum purchase to redeem. Sign on today

PEAK Full Strength Univeral coolant is on sale for $11.99/Gal. Or PEAK Universal 50/50 Prediluted is $9.99/Gal. NAPA Vehicle-Specific is on sale for $14.99/Gal.

Mobil 1 Full Synthetic Oil is only $5.79/Qt. NAPA Full Synthetic Oil is $3.79/Qt. For diesel, Mobil Delvac 1300 S.D.E. 15W-40 is $13.99/Gal. We also have other Mobil Delvac and Valvoine Premium Blue on sale, too!

Be sure to "Like" us on Facebook!

Thanks again for visiting our website. Thanks as always for your business; we are continually striving to be the world's finest NAPA store. Your feedback is appreciated.

-------------------

Phone: 847-395-3660 or 800-843-3211

Hours:

Monday - Friday: 7:30-6:30
Saturday: 7:30-5:00
Sunday: 9:00-2:00
Holidays: 9:00-2:00
Closed Christmas Day!
We are located just east of the intersection of Routes 83 & 173 in Antioch, Illinois.

Mailing address: 250 W. IL Rte. 173 Antioch, IL 60002