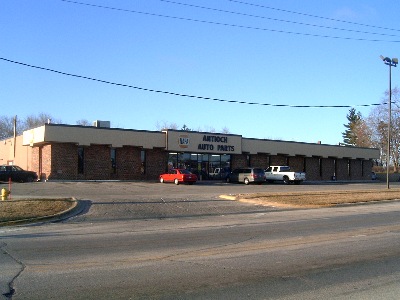 Everyone here at Antioch Auto Parts would like to say a big "THANK YOU" to all the customers who have let us spend another year helping them with all their auto care needs! We are humbled to be entering our 57th year of business in 2020! We also want to wish everyone a wonderful holiday season!

Looking for the perfect gift for that special someone or maybe even yourself??? We have a lot of tool specials going on through year end. Check out the 100 Pc. Evercraft Screwdriver Set for only $19.99. Or the Shopworks 134 Pc. Tool Set for also $19.99. A socket set would make a nice gift. Which is why we have the Evercraft 57 Pc. 3/8" Dr. Socket Set for $59.99!

A NAPA Tool Bag for only $5.99 would be a great way to carry all those new tools! Plus, there's the NAPA Garage Storage Step Stool that's great for organizing tools and can carry wherever you are needed for just $24.99.

Another really cool deal going will not only get your vehicle ready for months ahead, but will also help you see better! Save $10 on any two-pack of NAPA Nightvision Brilliant Headlamps and instantly get a pair of NAPA ProFormer Beam Wiper Blades for FREE! We highly recommend taking advantage of this sale before year end!

PEAK Full Strength Long Life Coolant is $12.99/gallon. PEAK 50/50 Long Life Coolant is $10.99/Gal.

Are you on NAPA Rewards yet? This is a buyer loyalty program with which you can earn a $5 credit for every $100 you spend -- not just at our store but any participating NAPA Rewards store! All we need is your phone number and the computer tracks the rest. No card to carry, no minimum purchase to redeem. Sign on today!

NAPA Full Synthetic Motor Oil is only $3.49/Qt. Or get NAPA Conventional Oil for $2.49/Qt. For diesel engines, Shell Rotella T4 10W-30 H.D. Diesel Oil is $15.29/Gallon. Or Shell Rotella T5 10W-30 H.D. Diesel Oil is $17.99/Gallon.

Speaking of Shell Rotella, we also have their Gas Truck oil on sale for $24.99/5 Qt. Jug! Shell Rotella ELC NF Nitrate Free Ext. Life Coolant is $10.99/Gallon.

Be sure to "Like" us on Facebook!

Thanks again for visiting our website. Thanks as always for your business; we are continually striving to be the world's finest NAPA store. Your feedback is appreciated.

-------------------

Phone: 847-395-3660 or 800-843-3211

Hours:

Monday - Friday: 7:30-6:30
Saturday: 7:30-5:00
Sunday: 9:00-2:00
Holidays: 9:00-2:00
Closed Christmas Day!
We are located just east of the intersection of Routes 83 & 173 in Antioch, Illinois.

Mailing address: 250 W. IL Rte. 173 Antioch, IL 60002