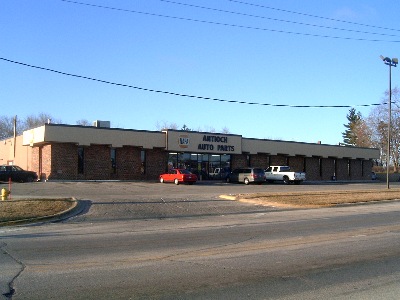 Well, summer is officially over and it's time to start putting away all our favorite forms of summer transportation. September brought our area vast amounts of rain which put a damper on some last motorcycle rides or cruising in your classic car. Even more disappointing was it for anyone hoping to get some last summer boat rides in with the Chain being closed for quite some time. But fall is here! We really enjoyed helping out our customers with all their unique and fun summer rides! However, just because its fall doesn't mean we still can't treat our cars with some TLC and get some winter ready.

All month long, we are having our Treat Your Vehicle event! Buy a $.99 NAPA Know How bag and get 20% off any 3 or more items you can fit inside bag! Great time to stock up!

We have Sea Foam products on sale, too! All Sea Foam Motor Treatment, Top Engine Cleaner, Deep Creep Penetrating Lubricant, and Trans Tune are $7.99/can.

Working on brakes? You're going to need brake cleaner. CRC Brakleen is 2 for $6. Plus, $.20 from every can sold gets donated to the Intrepid Fallen Heroes Fund.

Zerex Full Strength Coolant is $13.99/gallon. Zerex 50/50 PreDiluted Coolant or 50/50 DexCool is $11.99/Gal.

Are you on NAPA Rewards yet? This is a buyer loyalty program with which you can earn a $5 credit for every $100 you spend -- not just at our store but any participating NAPA Rewards store! All we need is your phone number and the computer tracks the rest. No card to carry, no minimum purchase to redeem. Sign on today!

Valvoline Full Synthetic Motor Oil is only $5.39/qt. Or get Valvoline Conventional Oil for $4.29/qt. For diesel engines, Valvoline Premium Blue 15W-40 H.D. Diesel Oil is $13.99/gallon. Be sure to grab a mail-in rebate for $5-$20 off gallon/s of Premium Blue Diesel.

Mobil 1 fan? We also have Mobil 1 Full Synthetic on sale for $5.49/qt. $26.99 for a 5 Qt. Jug.

Be sure to "Like" us on Facebook!

Thanks again for visiting our website. Thanks as always for your business; we are continually striving to be the world's finest NAPA store. Your feedback is appreciated.

-------------------

Phone: 847-395-3660 or 800-843-3211

Hours:

Monday - Friday: 7:30-6:30
Saturday: 7:30-5:00
Sunday: 9:00-2:00
Holidays: 9:00-2:00
Closed Christmas Day!
We are located just east of the intersection of Routes 83 & 173 in Antioch, Illinois.

Mailing address: 250 W. IL Rte. 173 Antioch, IL 60002