The official website of Antioch Auto Parts in Antioch, Illinois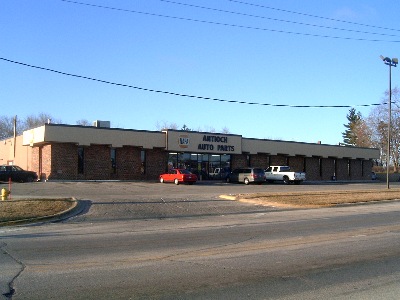 Before we get started on items to stock up on, there's an important question to ask. Are you ready for some football??? It's that wonderful time of year, again when the NFL season begins. We have many fans here of all different teams, but of course the Bears vs. Packers rivalry stands out the most. If you happen to stop by on a Sunday, then we will have the game on!

Of course racing is still going strong. So, be sure to keep an eye on our favorite NAPA racers to see how their seasons end!

Also, this month we have great deals on several brands of oil, antifreeze, grease, and select car care products! So, stop by to check out our sales and stock up for fall/winter!

All Valvoline grease cartridges and tubs on sale all month starting as low as $3.99/each. There is a shortage going on right now with grease so, we may not always have what you need, but are doing the best we can to get in cases when available.
Select CRC products are still on sale including CRC Brakleen which are 2 for $8.
We also have deals on select Bar's Leak products starting as low as $3.59/each.

NAPA Green 50/50 Antifreeze and NAPA Extend Life 50/50 Antifreeze are both $9.49/Gal. NAPA Dex-Cool Ext Life 50/50 and NAPA Heavy-Duty 50/50 are both $11.49/Gal. We also have great deals on Peak, Zerex, Fleet Charge, and Final Charge antifreezes!


Are you on NAPA Rewards yet? This is a buyer loyalty program with which you can earn a $5 credit for every $100 you spend -- not just at our store but any participating NAPA Rewards store! All we need is your phone number and the computer tracks the rest. No card to carry, no minimum purchase to redeem. Sign on today

Castrol EDGE Oil is on sale for $6.89/Qt. Castrol GTX Oil is only $4.99/Qt. For diesel, Valvoline H.D. Premium Blue is on sale starting at $19.99/Gal. Be sure to check out more sales for Pennzoil, Mobil, other Castrol, and other Valvoline oils.

Be sure to "Like" us on Facebook!

Thanks again for visiting our website. Thanks as always for your business; we are continually striving to be the world's finest NAPA store. Your feedback is appreciated.

-------------------

Phone: 847-395-3660 or 800-843-3211

Hours:

Monday - Friday: 7:30-6:30
Saturday: 7:30-5:00
Sunday: 9:00-2:00
Holidays: 9:00-2:00
Closed Christmas Day!
We are located just east of the intersection of Routes 83 & 173 in Antioch, Illinois.

Mailing address: 250 W. IL Rte. 173 Antioch, IL 60002