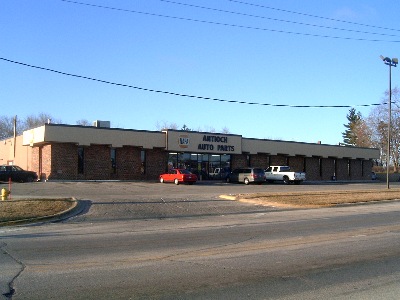 March is here and it's time to get ready for all things outdoors! Soon enough the grass will be green, the lakes will thaw, and temps will warm up around here. Are you ready??? Cause if not, we have lots of deals to help you out this month!

For starters, many people don't know we sell Lawn & Garden and Marine/RV batteries. We have a great variety along with two specials! NAPA Lawn & Garden Battery (Part #8221) is on sale for $21.99. Plus, $10 off all NAPA Marine/RV batteries.

Working on brakes? Need brake cleaner? CRC Brakeleen is buy 2 for $7 all month! That's a really good deal. Part numbers are 091314 and 095084.

We also have a sale on select Meguiar's car care products. Meguiar's Hot Shine Tire Coating, Hot Shine Tire Spray, Hot Rims Wheel & Tire Cleaner, "Shine as you dry" Quik Wax, and Quik Interior Detailer Cleaner are $5.99 each through month end.

Peak 50/50 PreDiluted Long Life Antifreeze is also on sale this month for $8.99/gallon.

Are you on NAPA Rewards yet? This is a buyer loyalty program with which you can earn a $5 credit for every $100 you spend -- not just at our store but any participating NAPA Rewards store! All we need is your phone number and the computer tracks the rest. No card to carry, no minimum purchase to redeem. Sign on today!

Oil specials for March are Mobil 1 Full Synthetic Motor Oil for only $5.99 a quart! Or choose Pennzoil Conventional Motor Oil for $3.99 a quart. For diesel engines, Shell Rotella T4 H.D. 15W40 is $13.99 a gallon.

Saving the best for last! Get your own NAPA #9 Chase Elliott cap free with any $25 purchase. Offer good while supplies last. So, head on over for your cap!!!

Be sure to "Like" us on Facebook!

Thanks again for visiting our website. Thanks as always for your business; we are continually striving to be the world's finest NAPA store. Your feedback is appreciated.

-------------------

Phone: 847-395-3660 or 800-843-3211

Hours:

Monday - Friday: 7:30-6:30
Saturday: 7:30-5:00
Sunday: 9:00-2:00
Holidays: 9:00-2:00
Closed Christmas Day!
We are located just east of the intersection of Routes 83 & 173 in Antioch, Illinois.

Mailing address: 250 W. IL Rte. 173 Antioch, IL 60002