The official website of Antioch Auto Parts in Antioch, Illinois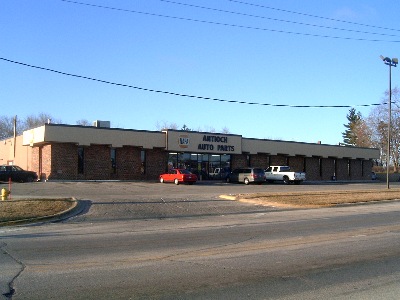 Daylight is getting shorter and nights are getting much colder, but we are ready for all your winter needs! We are stocked up on wipers, ice scrapers, antifreeze, ice melt and so much more. Many of those items are on sale for November and December so, don't wait to stock up today for winter products that you will need later!

Looking for gift for someone or yourself? We have NAPA Tool Bags back in stock for just $5.99/each. We also have our popular NAPA Wooden Truck kits and Evercraft 100pc Screwdriver sets in stock!

Or if you are thinking about getting some brighter headlight bulbs for the winter, save $10 on 2-pack NAPA NightVision bulbs!

A few of our cold weather products on sale include Ice Melt 20lbs bags for $7.29. Power Service Diesel 911 Fuel De-Icer is only $9.99/32oz. Mac's Premium Starting Fluid is just $5.59/11oz. Iso-Heet is on sale for $3.19/12oz. or get Mac's Thermo Aid for $2.99/12oz.

NAPA Green 50/50 Antifreeze is only $9.99/Gal or get NAPA Extend Life 50/50 Antifreeze for $10.49/Gal. NAPA Dex-Cool Ext Life 50/50 is only $10.99/Gal. NAPA Vehicle Specific 50/50 Antifreeze are all $13.99/Gal. Select Zerex and Shell Rotella Antifreezes are also on sale this month, too!


Are you on NAPA Rewards yet? This is a buyer loyalty program with which you can earn a $5 credit for every $100 you spend -- not just at our store but any participating NAPA Rewards store! All we need is your phone number and the computer tracks the rest. No card to carry, no minimum purchase to redeem. Sign on today

NAPA Full Synthetic Oil is on sale for $5.09/Qt. Or NAPA Conventional Oil is only $4.49/Qt. For diesel, NAPA HD Diesel Oil is only $14.99/Gal. Be sure to check out deals on select Castrol, Pennzoil, Shell Rotella and Valvoline oils as well!

Be sure to "Like" us on Facebook!

Thanks again for visiting our website. Thanks as always for your business; we are continually striving to be the world's finest NAPA store. Your feedback is appreciated.

-------------------

Phone: 847-395-3660 or 800-843-3211

Hours:

Monday - Friday: 7:30-6:30
Saturday: 7:30-5:00
Sunday: 9:00-2:00
Holidays: 9:00-2:00
Closed Christmas Day!
We are located just east of the intersection of Routes 83 & 173 in Antioch, Illinois.

Mailing address: 250 W. IL Rte. 173 Antioch, IL 60002