The official website of Antioch Auto Parts in Antioch, Illinois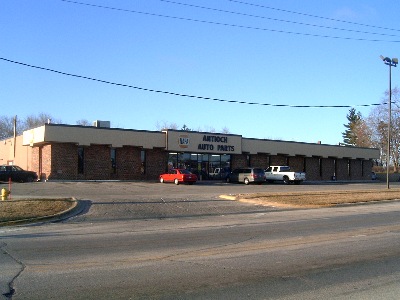 Our mild winter is coming to an end which means it's time to stock up on products for spring! We have some great deals on wipers, detailing gear, and Nightvision LED sealed beams. Racing is also starting! Be sure to check out all of NAPA's outstanding racers and we can't wait to see what racing season brings for them all!

Speaking of racing, don't forget to grab your FREE NAPA racing cap with any $25 purchase. Offer good while supplies last.

Need new wipers after all the rain and ice? Save 40% on NAPA Proformer Wiper Blades and save $15 on Rain-X Latitude Water Repel Blades.

Valvoline Gear Oil is up to 32% off which is a great deal! As always, our SeaFoam products are on sale. So, stock up on items such as Motor Treatment, Universal Power Steering Fluid, and Full Synthetic Oil Stabilizer.

Not many people know we carry Energizer batteries! Save 25% on select packs of Energizer AA, AAA, and 9V batteries.
NAPA Extended Life Antifreeze is on sale for $12.99/Gal. Or get NAPA DexCool Antifreeze for $14.99/Gal.

Are you on NAPA Rewards yet? This is a buyer loyalty program with which you can earn a $5 credit for every $100 you spend -- not just at our store but any participating NAPA Rewards store! All we need is your phone number and the computer tracks the rest. No card to carry, no minimum purchase to redeem. Sign on today

Valvoline Full Synthetic Oil is on sale for $7.19/Qt. Or Valvoline Conventional is only $5.59/Qt. For diesel, Valvoline Premium Blue 15W-40 Diesel Oil is only $18.99/Gal Also, Chevron Delo 400 SDE 15W-40 is on sale for $20.49.


Be sure to "Like" us on Facebook!

Thanks again for visiting our website. Thanks as always for your business; we are continually striving to be the world's finest NAPA store. Your feedback is appreciated.

-------------------

Phone: 847-395-3660 or 800-843-3211

Hours:

Monday - Friday: 7:30-6:30
Saturday: 7:30-5:00
Sunday: 9:00-2:00
Holidays: 9:00-2:00
Closed Christmas Day!
We are located just east of the intersection of Routes 83 & 173 in Antioch, Illinois.

Mailing address: 250 W. IL Rte. 173 Antioch, IL 60002