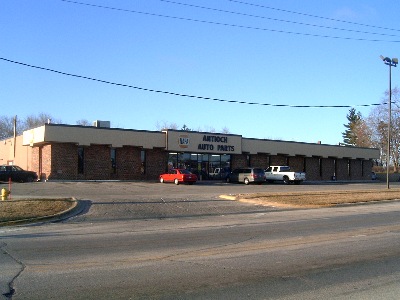 At the end of July, the 28th to be exact, Antioch Auto Parts celebrated it's 55th year of business! It seems just yesterday we celebrated 50 years, but another 5 has flown by. THANK YOU to everyone who has come through our doors over the last 55 years! We are humbled and grateful to be turning another year older over here. Our customers are why we constantly strive to be the best auto parts store we can be not only in the state, but in the country. So once again...THANK YOU!

We do have some more great sales this month so make sure to take advantage of them! One of our best sellers, Sea Foam Motor Treatment is $7.99 each! GUNK Engine Degreaser Original and Foamy along with GUMOUT Carb/Choke Cleaner are all $3.99 each. Also, visit our car care section for some great specials to keep your vehicle looking good inside and out!

A really cool sale we have is for Avalanche R134 All In-One Refrigerant for only $24.99 a can. This comes with a recharge hose w/in-line pressure gauge, cools air up to 30% colder than standard refrigerant, and stops leaks where most common leaks begin! Check it out!

Working on brakes? You're going to need brake cleaner. 3M High Power Brake Cleaner is 2 for $7! Stock up!

Prestone 50/50 Pre-Diluted Antifreeze is on sale for $12.99 a gallon. This sale is also for the Prestone Dex-Cool 50/50 Pre-Diluted.

Are you on NAPA Rewards yet? This is a buyer loyalty program with which you can earn a $5 credit for every $100 you spend -- not just at our store but any participating NAPA Rewards store! All we need is your phone number and the computer tracks the rest. No card to carry, no minimum purchase to redeem. Sign on today!

Oil specials for August are Valvoline Full Synthetic Motor Oil for $5.49 a quart! Valvoline High Mileage w/Max Life for $4.49 a quart. Or choose Valvoline Conventional Motor Oil for $4.29 a quart. For diesel engines, Valvoline Premium Blue HD Motor Oil is $12.99 per gallon.

Be sure to "Like" us on Facebook!

Thanks again for visiting our website. Thanks as always for your business; we are continually striving to be the world's finest NAPA store. Your feedback is appreciated.

-------------------

Phone: 847-395-3660 or 800-843-3211

Hours:

Monday - Friday: 7:30-6:30
Saturday: 7:30-5:00
Sunday: 9:00-2:00
Holidays: 9:00-2:00
Closed Christmas Day!
We are located just east of the intersection of Routes 83 & 173 in Antioch, Illinois.

Mailing address: 250 W. IL Rte. 173 Antioch, IL 60002