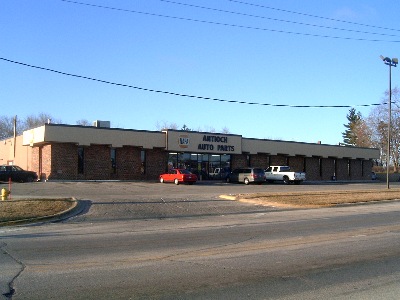 It's finally that time of year to get ready for all things outdoors! Lawns need to be mowed, motorcycles are itching to hit the roads, and boats are about to venture out onto one of the many beautiful lakes in our area. No matter what repairs or projects you have coming up, we can help!

Speaking of outdoor work, we have a great special on VP Small Engine Fuel, Ready-To-Use which is 2 for $12 all month! We have both 2-Cycle and 4-Cycle fuel.

Working on brakes? You're going to need brake cleaner. 3M Brake Cleaner is 2 for $7 through month end. Stock up!

If you've been putting off buying a torque wrench, then now's the time to buy one. We have Evercraft torque wrenches on sale for $19.99! Along with that, we also have a few other Evercraft tools on sale for only $19.99. Including 2-Ton Jack Stands (#776-2007), a creeper seat (padded and with a storage tray #815-6268), and a 26-piece Screwdriver set w/Rack! Those are some good deals!

Prestone 50/50 PreDiluted Antifreeze is also on sale this month for $12.99/gallon.

Are you on NAPA Rewards yet? This is a buyer loyalty program with which you can earn a $5 credit for every $100 you spend -- not just at our store but any participating NAPA Rewards store! All we need is your phone number and the computer tracks the rest. No card to carry, no minimum purchase to redeem. Sign on today!

Oil specials for May are Valvoline Advanced Full Synthetic Motor Oil for only $5.79 a quart! Valvoline High Mileage w/MaxLife for $4.59 a quart. Or choose Valvoline Conventional Motor Oil for $4.29 a quart. For diesel engines, Valvoline Premium Blue Heavy-Duty Diesel Motor Oil 15W40 is $13.99 a gallon.

Be sure to "Like" us on Facebook!

Thanks again for visiting our website. Thanks as always for your business; we are continually striving to be the world's finest NAPA store. Your feedback is appreciated.

-------------------

Phone: 847-395-3660 or 800-843-3211

Hours:

Monday - Friday: 7:30-6:30
Saturday: 7:30-5:00
Sunday: 9:00-2:00
Holidays: 9:00-2:00
Closed Christmas Day!
We are located just east of the intersection of Routes 83 & 173 in Antioch, Illinois.

Mailing address: 250 W. IL Rte. 173 Antioch, IL 60002