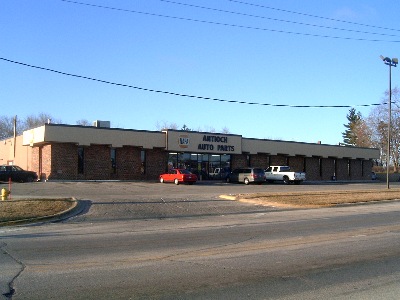 ...And as we all know, that means six more weeks of winter. I don't really understand this tradition, since everyone knows it never gets warm before mid-March anyway! Oh well. But that means you still need to make sure your car's battery is in tip top condition. Luckily the $10 Visa rebate card offer from NAPA is still in effect for February! If you're not sure about your battery, come one in and we'll test it free of charge.

While we're on the subject of batteries, we also have a Charge It! automatic battery charger on sale this month for only $29.99

WD-40 in a convenient Smart Straw can is only $4.79! WD-40 has hundreds of uses around your garage or home; you should always have a can available! CRC Brakleen is on sale also, only $2.69.

If you've broken your snowbrush or thrown your ice scraper across the yard out of frustration, don't worry, you can pick up a replacement while you're here!

Oil specials for February continue the same as in January -- these are great deals you won't want to miss! Castrol GTX conventional motor oil for only $3.79 a quart. Or you can choose Castrol Syntec full synthetic for a mere $5.69 a quart. Also, NAPA brand full synthetic motor oil is only $3.79 a quart.

Be sure to "Like" us on Facebook!

Thanks again for visiting our website. Thanks as always for your business; we are continually striving to be the world's finest NAPA store. Your feedback is appreciated.

-------------------

Phone: 847-395-3660 or 800-843-3211

Hours:

Monday - Friday: 7:30-6:30
Saturday: 7:30-5:00
Sunday: 9:00-2:00
Holidays: 9:00-2:00
Closed Christmas Day!
We are located just east of the intersection of Routes 83 & 173 in Antioch, Illinois.

Mailing address: 250 W. IL Rte. 173 Antioch, IL 60002