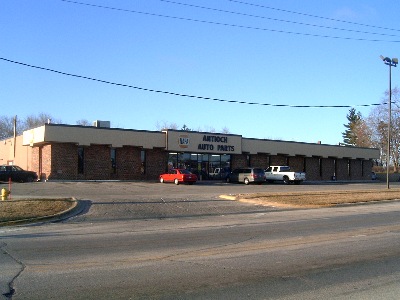 ...And back to football! September brings a bit of turn in the seasons, in more ways than one. But it always seems to have great weather -- not too hot, not too cool. Perfect cruising weather for your summer toys, no need to put them away yet!

So for your motor toys, this month NAPA is having a sale on Mothers car care products. Mothers put themselves on the map with their Mag & Aluminum polish, and it's only $4.99 during September! For that price you can also get their California Gold Instant Detailer, great for quick touch-ups. Also check out the rest of the product range, everything from Carnuba wax to plastic restorer is specially priced. Come in today!

Tool sale in September? Why not? We have some Evercraft socket sets on sale, choose your price point -- $29.99, $49.99 or $69.99! Gearwrenches are always popular, and indispensable in any toolbox. Only $39.99 for a set of 7, SAE or metric!

If you're going to work on your own car, eventually you're going to need brake cleaner. CRC Brakleen (their spelling, not mine!) is on sale this month for only $2.69 a can. Stock up now!

Oil specials for September are Pennzoil conventional motor oil for only $3.39 a quart, or Pennzoil Platinum full synthetic for $4.99 a quart! Also, we have Mobil 1 full synthetic motor oil for $5.79 a quart. For diesel engines, Mobil Delvac 15W40 is $11.99 a gallon, all month.

Be sure to "Like" us on Facebook!

Thanks again for visiting our website. Thanks as always for your business; we are continually striving to be the world's finest NAPA store. Your feedback is appreciated.

-------------------

Phone: 847-395-3660 or 800-843-3211

Hours:

Monday - Friday: 7:30-6:30
Saturday: 7:30-5:00
Sunday: 9:00-2:00
Holidays: 9:00-2:00
Closed Christmas Day!
We are located just east of the intersection of Routes 83 & 173 in Antioch, Illinois.

Mailing address: 250 W. IL Rte. 173 Antioch, IL 60002