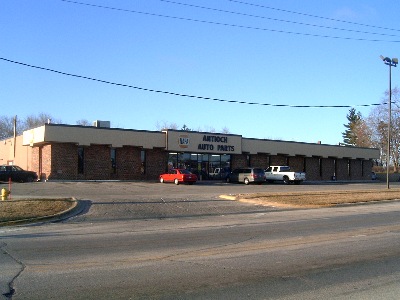 Yes I know summer doesn't officially start until June, but when the sun is shining and the windows are open, that's summer to me! May has got to be one of the best months for motorsports as well, with probably the best weekend of racing on the calendar at the end of the month, concurrent with the 100th Indy 500. Watching the 500 on TV as a kid is kind of what got me into this car thing in the first place...

I don't have a good segue from that to our monthly specials this time, so let's just get right to it...

This month you can get a $25 Visa rebate card with a purchase of any qualifying brake pad set and a pair of rotors, or $50 if you buy two sets! So do the front and back! How are you gonna beat free money?

Are you like me and always missing a screwdriver? Then you need our NAPA Evercraft 26-piece screwdriver set, only $19.99 with a storage rack.

Trailering season is here, do you know we have a full range of towing and trailer parts? Everything from wiring adapters to tie downs and even trailer axle u-bolts and brakes, we've got it!

We still have some buckets left over from last month's bucket deal -- buy an Intrepid Fallen Heroes NAPA bucket for $3.99, and get 20% off everything you can fit in it! That's a great deal, but the buckets won't last forever, hurry in now! For every bucket sold, NAPA will donate $1 to the Intrepid Fallen Heroes fund, in support of our wounded veterans.

Oil specials for May are NAPA conventional motor oil for $2.19 a quart, holy smokes! Also Valvoline full synthetic is on sale for $4.99 a quart. For diesel engines, we have Valvoline Premium Blue 15W40 for only $11.69 a gallon.

Be sure to "Like" us on Facebook!

Thanks again for visiting our website. Thanks as always for your business; we are continually striving to be the world's finest NAPA store. Your feedback is appreciated.

-------------------

Phone: 847-395-3660 or 800-843-3211

Hours:

Monday - Friday: 7:30-6:30
Saturday: 7:30-5:00
Sunday: 9:00-2:00
Holidays: 9:00-2:00
Closed Christmas Day!
We are located just east of the intersection of Routes 83 & 173 in Antioch, Illinois.

Mailing address: 250 W. IL Rte. 173 Antioch, IL 60002