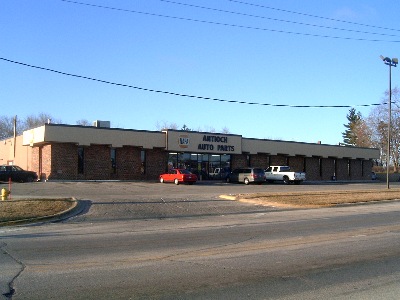 That means driving to school, from school, to practices, from games... It never ends, right? Keep your car in top condition with quality NAPA auto parts! You know where to find them...

One thing many of us don't think about all that regularly is our shock absorbers. They're key to more than just a comfortable ride; they keep the tires in firm contact with the road for maximum control and braking. If you haven't considered your car's shocks or struts in a while, now is a great time to do so. NAPA is offering a 4 For 3 Shock promotion in September. Ask us how to get a rebate Visa card equal to the value of one shock!

In my opinion the finest motor oil on the market is Mobil 1 synthetic, and we have it on sale this month for only $5.99 a quart. That's an incredible value you won't beat anywhere! Get that oil change done now before you have to do it laying on the ground in the snow... ;-)

Did you know we sell garbage bags? Heavy Duty 33 gallon Lawn & Garden bags are $14.99 for a box of 60. We've got a lot of other shop supplies you might not have ever considered us for. Don't hesitate to ask!

Other oil specials for September include Pennzoil conventional motor oil for only $3.79. We also have Valvoline Premium Blue 15W-40 Diesel Oil for $11.99 a gallon. Remember, we have filters for your Heavy Duty truck or Off-Highway equipment too!

Be sure to "Like" us on Facebook!

Thanks again for visiting our website. Thanks as always for your business; we are continually striving to be the world's finest NAPA store. Your feedback is appreciated.

-------------------

Phone: 847-395-3660 or 800-843-3211

Hours:

Monday - Friday: 7:30-6:30
Saturday: 7:30-5:00
Sunday: 9:00-2:00
Holidays: 9:00-2:00
Closed Christmas Day!
We are located just east of the intersection of Routes 83 & 173 in Antioch, Illinois.

Mailing address: 250 W. IL Rte. 173 Antioch, IL 60002