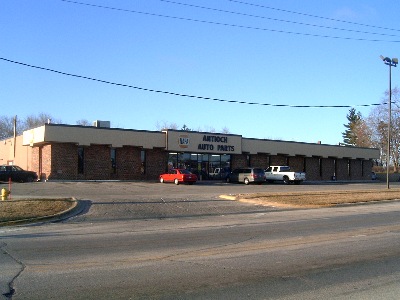 Welcome to April! Winter has finally ended, or has it? Cause spring can play tricks on us in the Midwest. However, we know April brings us warm weather eventually, so if your summer toys aren't ready yet, now is a good time to start working on them! But April also bring us lots of rain, which is a good thing because...

NAPA has a great sale on their NAPA ExactFit Wiper Blades! Save $10 per pair so your vehicle is ready to take on the rain!

Also, NAPA has extended their battery sale from March into April for NAPA Lawn & Garden Battery (Part #8221), on sale for $21.99. Plus, $10 off all NAPA Marine/RV batteries. Come check out our selection!

NAPA's annual bucket special has begun and runs until month end! Purchase the NAPA bucket at our store for $2.99 to get 20% off $50 minimum purchase(s) of qualified products that can fit in the bucket. Offer good while supplies last.

We also have a sale on several of our car care products for only $3.99. Some products included are Armor All Original Protectant Wipes, Black Magic Tire Wet Foam, and Purple Power Car Wash Concentrate. Great time to stock up on all your car care needs.

Zerex 50/50 Dex Cool Antifreeze is also on sale this month for $9.99/gallon. Along with Zerex Full Strength G-05 Antifreeze for $13.99.

Are you on NAPA Rewards yet? This is a buyer loyalty program with which you can earn a $5 credit for every $100 you spend -- not just at our store but any participating NAPA Rewards store! All we need is your phone number and the computer tracks the rest. No card to carry, no minimum purchase to redeem. Sign on today!

Oil specials for April are Castrol EDGE Full Synthetic Motor Oil for only $6.39 a quart! Or choose Castrol GTX Conventional Motor Oil for $3.79 a quart. For diesel engines, Mobil Delvac 1300 Super Diesel Motor Oil 15W40 is $13.99 a gallon.

Be sure to "Like" us on Facebook!

Thanks again for visiting our website. Thanks as always for your business; we are continually striving to be the world's finest NAPA store. Your feedback is appreciated.

-------------------

Phone: 847-395-3660 or 800-843-3211

Hours:

Monday - Friday: 7:30-6:30
Saturday: 7:30-5:00
Sunday: 9:00-2:00
Holidays: 9:00-2:00
Closed Christmas Day!
We are located just east of the intersection of Routes 83 & 173 in Antioch, Illinois.

Mailing address: 250 W. IL Rte. 173 Antioch, IL 60002