The official website of Antioch Auto Parts in Antioch, Illinois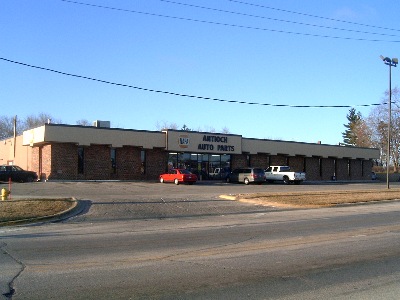 Football season is here! All of us at Antioch Auto Parts are ready to cheer on our favorite NFL teams and hope for a chance to make it to the playoffs! We also enjoy seeing everyone come out to support our Antioch High School football teams whenever there's home games across the street. Good luck to whichever NFL team you're rooting for and to our Antioch Sequoits!

If you've been putting off replacing your wiper blades, now is the time to come on in and save 15% off our NAPA Proformer Wiper Blades!

TruFuel Pre-Mix Fuel & Oil is on sale starting at $6.99.

Our Evercraft 100pc Screwdriver Set is on clearance for $34.99. Never go without the right screwdriver for any project or repair!

Need brake parts cleaner? We have a great deal on CRC Brakleen at $4.99/each.

PEAK All Vehicles Concentrate Antifreeze is on sale for $13.99/Gal. PEAK All Vehicles 50/50 Antifreeze is also on sale for $9.99/Gal. Select NAPA, Shell Rotella and Zerex Antifreezes have deals this month, too!

Are you on NAPA Rewards yet? This is a buyer loyalty program with which you can earn a $5 credit for every $100 you spend -- not just at our store but any participating NAPA Rewards store! All we need is your phone number and the computer tracks the rest. No card to carry, no minimum purchase to redeem. Sign on today

Castrol Edge Full Synthetic oil on sale for $6.49/Qt. Or Castrol GTX is only $4.79/Qt. For diesel, Premium Blue 15W-40 Diesel is only $17.99/Gal. We also have sales on Chevron Delo and Shell Rotella diesel oils.


Be sure to "Like" us on Facebook!

Thanks again for visiting our website. Thanks as always for your business; we are continually striving to be the world's finest NAPA store. Your feedback is appreciated.

-------------------

Phone: 847-395-3660 or 800-843-3211

Hours:

Monday - Friday: 7:30-6:30
Saturday: 7:30-5:00
Sunday: 9:00-2:00
Holidays: 9:00-2:00
Closed Christmas Day!
We are located just east of the intersection of Routes 83 & 173 in Antioch, Illinois.

Mailing address: 250 W. IL Rte. 173 Antioch, IL 60002