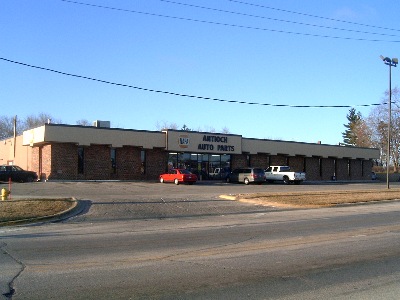 ...November is here. While the calendar tells me winter doesn't officially arrive until mid-December, it's the feel of the season when you're heading home from work in the dark. Before we know it Thanksgiving will be here!

Before the hectic pace of the holidays gets here, now is a perfect time to check out that snowblower -- I know that's a dirty word, but you'll save yourself a lot of aggravation later making sure it starts now and is in good operating condition. We have spark plugs and belts in stock for your power equipment needs.

If you haven't already, it's also a great time to think about wiper blades for your car or truck! Winter is very tough on wiper blades and the best way to get through it is to start anew before the season. We carry several brands of wiper blades at various price points, so you're sure to find what you need here. We'll even install them for you!

WE HAVE RV ANTIFREEZE!! One gallon of 50 below is only #2.99, 100 below is $6.99. This stuff always sells out so don't delay! We also have Sta-Bil fuel stabilizer for your end-of-season vehicle maintenance on sale this month for only $3.99!

NAPA has brought back the Intrepid Fallen Heroes caps, now in a camo motif! Free with any $25 purchase, while supplies last. It's a good cause and a great looking NAPA hat too!

Our October oil specials have been extended until November 16 -- that means NAPA synthetic motor oil for only $3.79. At the same price point we also have Castrol GTX conventional motor oil. The ever popular Shell Rotella 15W-40 Diesel Oil for $13.99 a gallon. Remember, we have filters for your Heavy Duty truck or Off-Highway equipment too!

Be sure to "Like" us on Facebook!

Thanks again for visiting our website. Thanks as always for your business; we are continually striving to be the world's finest NAPA store. Your feedback is appreciated.

-------------------

Phone: 847-395-3660 or 800-843-3211

Hours:

Monday - Friday: 7:30-6:30
Saturday: 7:30-5:00
Sunday: 9:00-2:00
Holidays: 9:00-2:00
Closed Christmas Day!
We are located just east of the intersection of Routes 83 & 173 in Antioch, Illinois.

Mailing address: 250 W. IL Rte. 173 Antioch, IL 60002