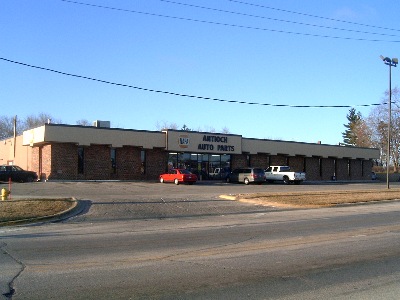 So it's a new year (this seems to happen every January - Ha!) and we're looking forward to another year of being your auto parts store of choice. The average age of cars on the road is at an all-time high (over 11 years!), and we can help keep your ride on the road humming along smoothly.

This time of year, the big deal is the cold of course. Cold weather saps your battery's power and makes turning that key in the morning an adventure! If your battery is five years old or more, it's getting up there in age and it might be time to think about replacing it before you get stranded.

Conveniently, NAPA has a battery deal this January through February. Buy a NAPA Legend battery and you can receive a $10 Visa rebate card by mail! Purchase a NAPA Legend Premium battery, and that rebate card is $20! Ask for your rebate form at purchase.

Speaking of cold, we have ice melt! Salt your driveways and walks to keep them safe, either 12lb shaker jugs or 20lb refill bags.

Sea Foam is on sale again! Only $7.99 a can. Also, CRC Brakleen (their spelling not mine!) is only $2.69 a can, both are great deals!

Are you on NAPA Rewards yet? This is a buyer loyalty program with which you can earn a $5 credit for every $100 you spend -- not just at our store but any participating NAPA Rewards store! All we need is your phone number and the computer tracks the rest. No card to carry, no minimum purchase to redeem. Sign on today!

Oil specials for January are Pennzoil conventional motor oil for only $3.49 a quart, or Pennzoil Platinum full synthetic for $4.99 a quart! For diesel engines, Shell Rotella 15W40 is $11.49 a gallon.

Be sure to "Like" us on Facebook!

Thanks again for visiting our website. Thanks as always for your business; we are continually striving to be the world's finest NAPA store. Your feedback is appreciated.

-------------------

Phone: 847-395-3660 or 800-843-3211

Hours:

Monday - Friday: 7:30-6:30
Saturday: 7:30-5:00
Sunday: 9:00-2:00
Holidays: 9:00-2:00
Closed Christmas Day!
We are located just east of the intersection of Routes 83 & 173 in Antioch, Illinois.

Mailing address: 250 W. IL Rte. 173 Antioch, IL 60002