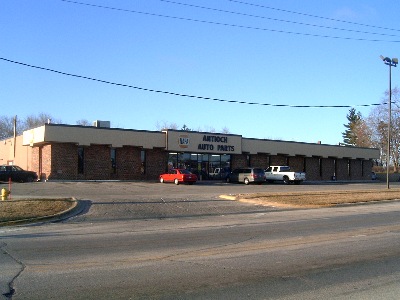 September is here and around the Chicagoland area for many people this means the start of, football season! Being close to the border of Wisconsin makes things even more interesting with the amount of Chicago Bears and Green Bay Packers fans we have. Of course, there's fans of many other teams in our area, but nobody can deny the excitement of the Bears vs. Packers rivalry! September also brings the start of cooler weather so it can be a nicer time of year to enjoy your car and as always, we have some good deals going on to help!

VP Small Engine Ready-To-Use Fuel is only $5.99 and perfect for any remaining lawnmowing or yard work you have left! Lucas Fuel System Treatment is $3.99 which is a $2 savings this month! We have select Mothers and Stoner car care products on sale starting at $4.99.

Working on brakes? You're going to need brake cleaner. CRC Brakeleen Chlorinated & Non-Chlorinated are buy 2 for $6! Stock up!

PEAK Long Life 50/50 Prediluted Antifreeze is on sale for $8.99 a gallon. PEAK Long Life Full Strength is $10.99. Save an additional $5 with mail-in rebate (form available at checkout counter)!

Are you on NAPA Rewards yet? This is a buyer loyalty program with which you can earn a $5 credit for every $100 you spend -- not just at our store but any participating NAPA Rewards store! All we need is your phone number and the computer tracks the rest. No card to carry, no minimum purchase to redeem. Sign on today!

Oil specials for September are Pennzoil Platinum Full Synthetic Motor Oil for $4.79 a quart! Pennzoil Conventional Motor Oil for $3.79 a quart. For diesel engines, Rotella T4-HD Motor Oil 15W40 is $14.99 per gallon.

Be sure to "Like" us on Facebook!

Thanks again for visiting our website. Thanks as always for your business; we are continually striving to be the world's finest NAPA store. Your feedback is appreciated.

-------------------

Phone: 847-395-3660 or 800-843-3211

Hours:

Monday - Friday: 7:30-6:30
Saturday: 7:30-5:00
Sunday: 9:00-2:00
Holidays: 9:00-2:00
Closed Christmas Day!
We are located just east of the intersection of Routes 83 & 173 in Antioch, Illinois.

Mailing address: 250 W. IL Rte. 173 Antioch, IL 60002