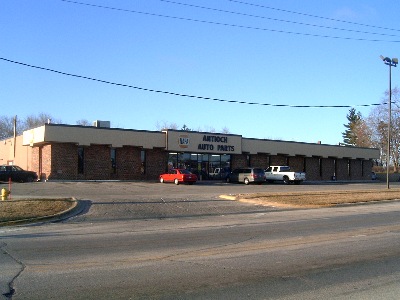 We're halfway down the calendar now this year, hopefully it's been a great one so far for everyone! For us at Antioch Auto Parts, 2015 has been memorable indeed.

July is a bit of a quiet time for NAPA as far as promotional specials. Even if you missed out on the Father's Day sales, remember we always have a great selection of tools on hand. If you need something special or even something big like an engine hoist or an air compressor, most of the time these are only 24 hours away by special order.

It's also a good time to remind you that NAPA carries parts for your classic car. As summer cruise weather is in full swing, you want to keep that oldie but goodie running great! You don't always need to go to an online specialist -- whether it's a valve cover for a straight-8 Buick or wheel cylinders for a '39 Chevrolet truck, we might surprise you be what we have or can get. Why pay for shipping when you can get it here?

There's a blowout oil sale this month -- NAPA conventional motor oil is only $1.99 a quart!! How are you going to beat that? We've got a whole stock room full of this stuff, so don't worry, we won't run out! Come in today!

Be sure to "Like" us on Facebook!

Thanks again for visiting our website. Thanks as always for your business; we are continually striving to be the world's finest NAPA store. Your feedback is appreciated.

-------------------

Phone: 847-395-3660 or 800-843-3211

Hours:

Monday - Friday: 7:30-6:30
Saturday: 7:30-5:00
Sunday: 9:00-2:00
Holidays: 9:00-2:00
Closed Christmas Day!
We are located just east of the intersection of Routes 83 & 173 in Antioch, Illinois.

Mailing address: 250 W. IL Rte. 173 Antioch, IL 60002