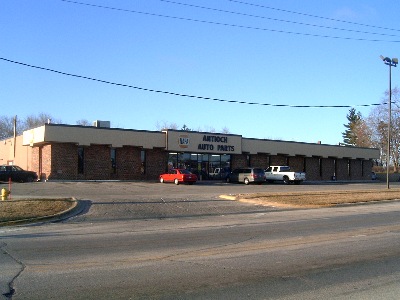 Springtime is in full swing now, and I know because it won't stop raining! Right on cue, NAPA has ProFormer wiper blades for only $4.99 each! If you prefer the new beam-style blades, those are $9.99 a piece. Stop on in, and we'll even pop them on for you!

All that rain is going to help your yard get to an unruly state. Which is good because NAPA Lawn & Garden batteries are on sale! Standard group U1 batteries are only $21.99 with core exchange. Is it too early to mention boats? I don't think so. NAPA marine batteries are $10 off usual price for March.

As long as we're talking yard work, keep in mind that we have an extensive stock of power equipment parts to keep all your yard machines humming.

It's time for the bucket sale! Buy a sweet blue NAPA five gallon bucket for only $2.99 and get 20% off everything you can fit in the bucket! What a deal! And I'll let you keep the bucket. :-D

Are you on NAPA Rewards yet? This is a buyer loyalty program with which you can earn a $5 credit for every $100 you spend -- not just at our store but any participating NAPA Rewards store! All we need is your phone number and the computer tracks the rest. No card to carry, no minimum purchase to redeem. Sign on today!

Oil specials for April are NAPA full synthetic motor oil for only $3.49 a quart! Or chose Castrol GTX conventional oil for $3.79, or Castrol Edge full synthetic for $5.69 a quart. For diesel engines, Mobil Delvac 15W40 is $12.99 a gallon.

Be sure to "Like" us on Facebook!

Thanks again for visiting our website. Thanks as always for your business; we are continually striving to be the world's finest NAPA store. Your feedback is appreciated.

-------------------

Phone: 847-395-3660 or 800-843-3211

Hours:

Monday - Friday: 7:30-6:30
Saturday: 7:30-5:00
Sunday: 9:00-2:00
Holidays: 9:00-2:00
Closed Christmas Day!
We are located just east of the intersection of Routes 83 & 173 in Antioch, Illinois.

Mailing address: 250 W. IL Rte. 173 Antioch, IL 60002